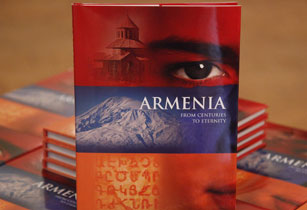 New book titled "Armenia: From Centuries to Eternity" published by Armenia's embassy in United Arab Emirates, the book is dedicated to the 20th anniversary of Armenia's independence.


The book includes both general and detailed information about the Republic of Armenia and the history of the Armenian people.

The 100-page-long book with illustrations also incorporates the Armenian culture, the Armenian Apostolic Church, painting art and architecture.

The book also features former and present outstanding Armenian personalities both in based in Armenia and worldwide.
source: www.armenian-history.com